gallery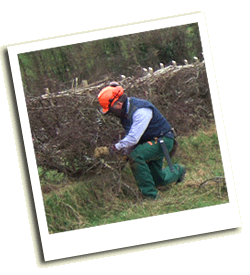 Os Hoskyns The Isle of Wight Hedgelaying Competition is a great day out. There is plenty to see and do. It's a perfect opportunity for you to see this ancient craft in action and there are always plenty of things to photograph. There are some pictures of recent Isle of Wight hedgelaying competitions on our Flickr photo group. If you would like to use the images or would like a higher resolution version, please contact the Isle of Wight Hedgerow Group.
Upload your pictures
Upload your pictures to our Flickr photo group! The annual competition is a great opportunity for photographers, and many good pictures have been taken over the years. If you have some, and are willing to share them - especially from previous years - please consider uploading them to Flickr. If you don't know how to use Flickr contact us, we can help. Here are some samples from our gallery from previous years.